Warehouse Cleaning Services Toronto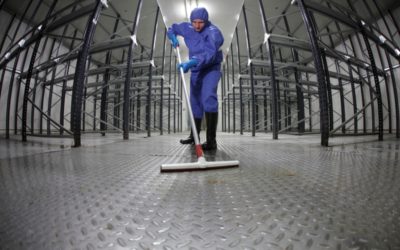 A warehouse is an important key in the backbone of a business. We believe a well maintained and clean warehouse stands tall as the foundation of the productivity in your line of work. In a commercial setting, a warehouse plays an essential role of being able to provide products per demand. Hence, a well-organized and sustained facility becomes imperative. At Golden Lion cleaning services, you can be well assured that we take care of your products and warehouse cleaning so you can easily rely on its benefits
for your business. A clean warehouse provides a positive image for your clients and employees. They can easily see a cleaner environment and a comfortable working area in order to make the right impression for your reputation.
Our Services Include:
Addressing large hallway space
Proper Sanitization of washrooms
Intense care taken within high beams, rafters and wall ties
Brushing of hard to reach shelves
Overhead cleaning
And much more!
Your warehouse will become a place to celebrate after Golden Lion has finished thoroughly cleaning your premises. Our highly dedicated workers will take care of your properties present within the warehouse while cleaning. Our environmentally safe products are ideal for tough cleaning jobs at the warehouse.
Call us today and find out how we can make your business stronger! +1416-568-5055
We cover the following areas:
Toronto, Vaughan, Mississauga, Brampton, Markham, and Thorn Hill, Oakville, Woodbridge, Scarborough, North York, East York, Etobicoke, Maple, Richmond Hill, Burlington, Ajax, and Pickering.